ANOTHER SPIKE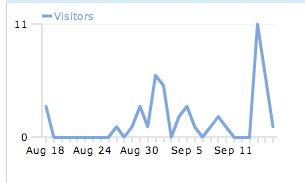 11 people to the
yabai
website on the 14th! That's almost twice our last record! Go us!
turns out it was to mimic this:
which can only indicate in the days to come there will be a plateau around 8 for about 3 days as indicated by the buildings to the right of the
transamerica pyramid
----------
PRE B2SS POLO TOURNEY // SATURDAY SEPTEMBER 20th, 2008 // 12:30 PM // HOWARD MIDDLE SCHOOL
(photo my melissa // gee, who's that handsome guy??)
According to julius (who is always correct) tampa and tally might be in on this one, so let's bring it, Orlando!
POST B2SS POSSIBLE TALL BIKE JOUST EVENT
stay posted!
p.s. does anyone have pics from the svcavenger rat pixie joust?
----------
Another sweet prize for the
Back to School Shuffle
is a sweet DBAGS hip pack made for you and yr room cleaned by ME!
ryan