Journey Pt. Deux
I want to make something like this - click to enlarge
This might be slightly redundant to my last post, but here's the whole trip (and I wrote all this
during
the ride so it was fresh in my head).
----------
Back Story;
I decided one day that I'm still too young not to make impulse decisions and have all the fun I can have. That said, the past two years I've skipped attending the
FEST
up in Gainesville for whatever reason - whether it be schedule w/ work or whatever. This year was
almost
the same story.
First part of that story was not putting in a request for time off at my job and quickly enough, all hands were on deck for our halloween party. Unfortunately, that's when all my friends were leaving for Gainesville - so I figured I'd leave saturday morning and find my own way there.
Leaving Saturday left me few options, not having a *working* car, myself, my first thought was hitching, but i doubted strongly the likelihood that I could hitch with a bike; and not wanting to be bikeless and more-pedestrian-than-comfortable. I got the "crazy" idea to ride a bike
to
Gainesville.
----------
October 31st: The Ethos Vegan Kitchen Halloween Party
Busy us. The Halloween party was fun and I saw some awesome jack-o-lanterns and heard just the right amount of misfits covers. Still, I was anxious to get going. We slowed down far earlier than closing time so i was cut loose early. I skorfed some sauteed broccoli and rolled out - homebound to pack.
upon getting home, I learned more details of our house getting foreclosed on. I couldn't dwell on it because I was anxious to pack. In the future this might open up the possibility of a sweet squat situation. I ain't leaving.
Running off a scrawled out list, I packed up quick, talked shit about the bank that now "owns" our house then hit the hay for a nice little 4-hour nap.
----------
November 1st: 4:50 AM // Orlando, FL
Woke up dead and hated being awake. I flirted with the idea of just starting the ride off at 10 or something. I even reset my alarm for 6:50, but excitement took over and soon I was out the door.
My first stretch of the ride wasn't necessarily a strong one. I put Environmental Youth Crunch on and rode out. Against myself, this morning, was the all-too-typical Orlando headwind.
For longer rides - like when visiting my parents in DeLand - I usually average about 20 mph, but i'm sure so far i've kept only half of that. I the the winds let up (or, miraculously, change in my favor), or it'll take me 12 hours to get to G-vegas.
----------
November 1st: 6:05 AM // Apopka, FL
I learned that my backpack was "slightly" (understatement) off-balance to the left. This, due to an "oversized" (understatement) lock that was on the left side. This pulled my back in all the wrong ways.
So far the headwind has persisted, but i'm still too happy to care much. I decided i'd stop for coffee once i'd gotten out of Orlando at least. I'm pretty weak-willed sometimes and I didn't want to get tired and just head home.
I wound up stopping at some fancy BP that call their aisle of beer coolers "arctic avenue." This will likely contribute to a fond memory like the "beer caves" i saw in Tennessee. I picked up a 20 oz'er of some bean and had a seat. In my tired stupor, I left my gloves on my bike saddle. Silly me.
What's in the Bag?
Bike Stuff:
2 extra tubes (700cx18-23c / 60 mm long stem presta valve get the job done), 15mm wrench for my back wheel, a couple allen keys (4, 5, and 6mm), tire levers, combination presta/schraeder hand pump, "oversized" lock.
Clothes Stuff:
Hoody, Vest, 2 t-shirts, pants (that i need to fix upon arrival).
Sleeping Stuff:
Blanket
Sewing Stuff:
Floss, Needles, Canvas, Scissors, Lighter
Edible/Potable Stuff:
Granola, Water Bottles
Other Stuff:
Computer, Phone, iPod, Various Chargers Thereof
After recovering from some expected crotchal numbness, i'm ready to go... once I finish coffee#2.
Playlist: EYC, Dystopia, Hatred Surge, Ferocious X, Hellbastard
Distance so far: 15.8 mi
----------
November 1st: 7:45 Am // Zellwood, FL
It hasn't even been an hour since my first stop in apopka. I stopped for a photo op at the "Zellwood - Home of the Sweet Corn Fest" sign. My crotch was getting pretty numb again. The sun's coming up now and it's really pretty. It's partly cloudy so the sunrise has a nice orangeyness to it. I passed a grapefruit orchard called "webpage farms," a dead raccoon and about a dozen 711's. Judging by the position of the sunrise, I determine I'm at one of the more westbound stretches of 441.
I'm about to eat a little and head out - plenty of road ahead.
Playlist: CCR, Disclose, Framtid
Distance so far: 22.3 mi
----------
November 1st: 11:17 AM // Leesburg, FL
I stopped a couple times before I got here to Leesburg:
Mt. Dora: Stopped at 711 to use their bathroom and check a map. Met a guy from Tangerine who used to ride his bike to Apopka to holler at ladies. Nice guy, otherwise.
Eustis: I stopped at the bank to get some cash money for the weekend. There was a PJ's coffee next door where I Internetted and coffeed. Checked google maps to make a chart of every upcoming city on my way to Gainesville, their distance between oneanother and their remaining distance to Gainesville. Headwinds are still pretty shitty and i've been having ever-increasing numbness issues with my saddle. Now every 15-20 minutes all my junk is totally numb- doesn't seem like a good thing.
Called my dad who seemed cautiously excited at my trip - i guess my mom was worried silly about it.
I assume this stretch is a lowland stretch of the ride and I hear there are some big hills ahead, legs are mad at me.
Playlist: CCR, Insect Warfare, Antisect, Stormcrow
Distance so far: 34.1 Miles
----------
November 1st: 2:37 PM // Leesburg/Wildwood, FL
After writing the last entry and witnessing a guy totally freaking out at his gf who worked at checkers (i was stopped in front of said checkers) - it was really unsettling as he was senselessly mean - I reassessed my situation. My small saddle rip had grown, probably the reason for my taint getting so numb. I also noticed I'd lost my pincher bolt that clamps my seat post.
Taint hurt and all my leg muscles sore I decided to take to hitching - so how convenient it was that i was standing next to some prime signmaking cardboard. Quickly, I scrawled out "North/Gainesville" and stood for an hour before a guy stopped to give me tips.
"You remind me of that 'into the wild' guy" he said. I wasn't outwardly offended because I think he meant it as a compliment. he told me that chances were slim i'd get a ride for any useful distance on 441 because it was mostly local traffic. I agreed.
He told me i oughtta go 10 minutes west to wildwood to hitch out on I-75. The was some good sense to me and after a woman gave me a hamburger - I accepted to be polite even though I'm militantly vegan (give it to someone? throw it away later?) who knows (yuck, meat in my bag) - I set off toward the wildest woods of wildwood.
The ride to wildwood was barren and beautiful: rolling pastures oak hammocks and the like. Central/Northern FL gold if you ask me. I sit now outside a CVS after refilling my waterbottle. About to trek the rest of the way through wildwood to I-75.
Playlist: Man is the Bastard, Crossed Out, Confilt, Crocodile Skink, Frigora, Mob 47
Distance so far: 58 mi
----------
November 1st, 5:30 PM // Wildwood, FL
The highway is a scorned mistress. I (finally) got to I-75 and felt like the mere sight of it had saved my trip. I tried out the 4-surrounding "travel" gas stations that immediately surrounded the interchange.
For the first hour I was optimistic. That soured when being tired and dusty set in which made me a grand total of tired, dusty and hopeless-feeling.
The sun has just set behind the trees and it'll be dark before long. I'm going to waffle house to grab some coffee and work on a new plan...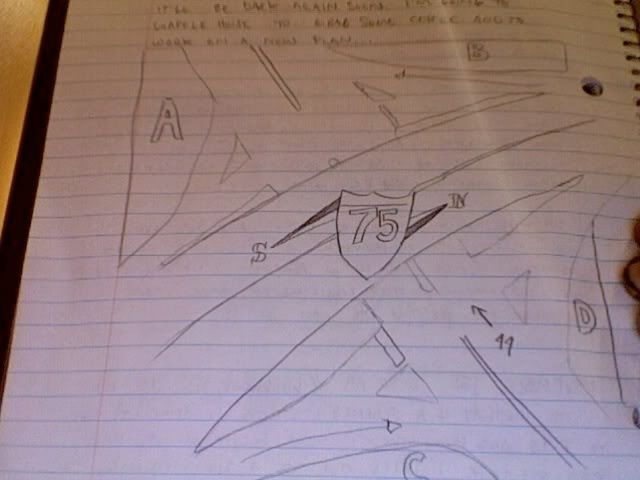 click to enlarge
I LEARNED
:
In the highway overpass set up shown in the above illustration, travel stations B and C are the busiest, as people get off the highway and pull right in (bathroom needs might explain this trend). This fact contrasts my hypothesis that A and D would be busiest because they're a straight shot back onto the highway.
Similarly, having observed B and C directly, my hypothesis that most people in B are going southbound and C-> Northbound turned out to be true, and wanting to go northbound, myself, I hung out in C and the onramp the most.
Waffley Haus
The server guy here is cool and was totally interested in why I arrived on a bike. I filled him in and he thought it was pretty cool. That + coffee = better spirits.
Plan #1
Fix saddle? Cut anatomic cutaway?
Plan #2
Meet Jono when he comes through here?
Plan #3
Fix saddle and say fuck it - hoof up 301 to 441 in Belleview, FL
Verdict: Plan #3 Of course!
Playlist: Contrast Attitude, CCR, No Comment, Capitalist Casualties
Distance so far: 62.4 mi (w/o backtrack)
----------
November 1st, 8:21PM // Belleview, FL
Got into Belleview ust a second ago and boy was that ride scary! 301 is the darkest road in the world. There are no lights in sumter county or in oxford or dallas FL. At all. I couldn't see the road or the horizon or anything. I'd pick up speed mildly (remember, theres a headwind everywhere) and understand that meant i was going downhill. There was one hill I rode up that i could only tell was there because I was passed by a car, I was listening to No Comment getting pumped as fuck charging the stupid hill and both of my calves along with my side cramped so hard. It sucked like lightning and I thought i was going to die. Eventually I got into Belleview, which is a town that has lights, and stopped in at a supermarket (sweetbay maybe?) and made a salad and chugged a bolthouse chai drink. It was great. First non-junk food all day.
Kaysie called me worried and said she wanted to pick me up and I finally agreed to meet her in Ocala. It was nearing 9 PM and I'd been on the road since 5 AM - not riding sounded pretty good. I packed up again and left for Ocala.
Playlist: No Comment (iPod died)
Distance so far: 80.9 mi (w/o backtrack)
----------
November 1st, 9:36 PM // Ocala, FL
Got to ocala - I hate ocala, got picked up immediately. Felt good about it. About to be in G-vegas raging hard. Good trip.
Total Distance:
99.8 Miles
---------------
click to enlarge
---------------
Next year lets ride freak bikes 15-20 miles at a time and camp the way up. It'll be fun!
ryaN!